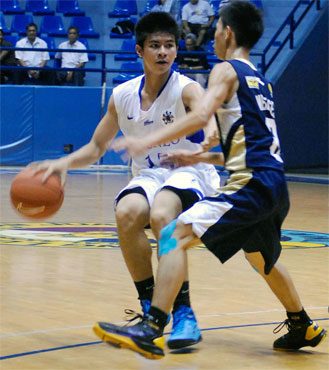 Is he or isn't he? Will he or won't he?
Despite
Chot Reyes' Tweets
, there is still some doubt in the air, as to whether or not Kiefer Ravena will be donning Ateneo blue in Season 74 of the UAAP.
Ateneo's Athletics Director, Ricky Palou, told
the Philippine Star earlier today
that:
"Yes, he is with Ateneo...He's been actually working out with the team for the last couple of months already"
In the same article though, he also added:
"We're confident he'll come to Ateneo...It is our understanding that if he stays in the Philippines and there are no offers abroad, he'll play for Ateneo."
Parsing his statements though, it is no guarantee that a player will wind up with the Blue Eagles in spite of months of training with them. For one, no formal agreement can be worked out until the student has graduated and enrolled. Another thing to consider is that Coach Norman Black has open training sessions, meaning any prospective recruit can work out with the Eagles at any time. This philosophy can easily give rise to rumors. For example, last season, many speculated that De La Salle Zobel point guard Nico Elorde would be Ateneo-bound, after seeing him in practice with the Eagles. He would later wind up at DLSU.
The fact that Palou couched his statement as "We're confident..." and "It is our understanding..." means it is not 100% sure yet.
This indecision was further strengthened in
a later GMA News report found online
, in which Ravena's father, former PBA standout Bong Ravena, issued a statement saying:
"Kiefer will make the announcement this week"
Which may give some hoops fans flashbacks to "The Decision" brouhaha that entangled NBA star Lebron James last summer.
Other nuggets of information from that article include Reyes' confirmation that he was in fact talking about Ravena in his Tweets, if there was any doubt (Reyes says "he got the news from a very reliable source from Ateneo"), and Palou clarifying that the school had a "verbal commitment" from Ravena about playing in Ateneo should there not be any foreign overtures, last October.
In addition to practicing with the Eagles, Ravena is also making appearances at the Smart Gilas practices, along with another standout incoming freshman, San Beda High School's Baser Amer, who is expected to stay at home as well.